What is Refacing?
Refacing is the process of transforming worn + dated cabinets by removing old doors and replacing them with new ones. For the everyday DIYer, we recommend painting your cabinet boxes. If you consider yourself more experienced, we offer other ways you can refinish your boxes with engineered materials.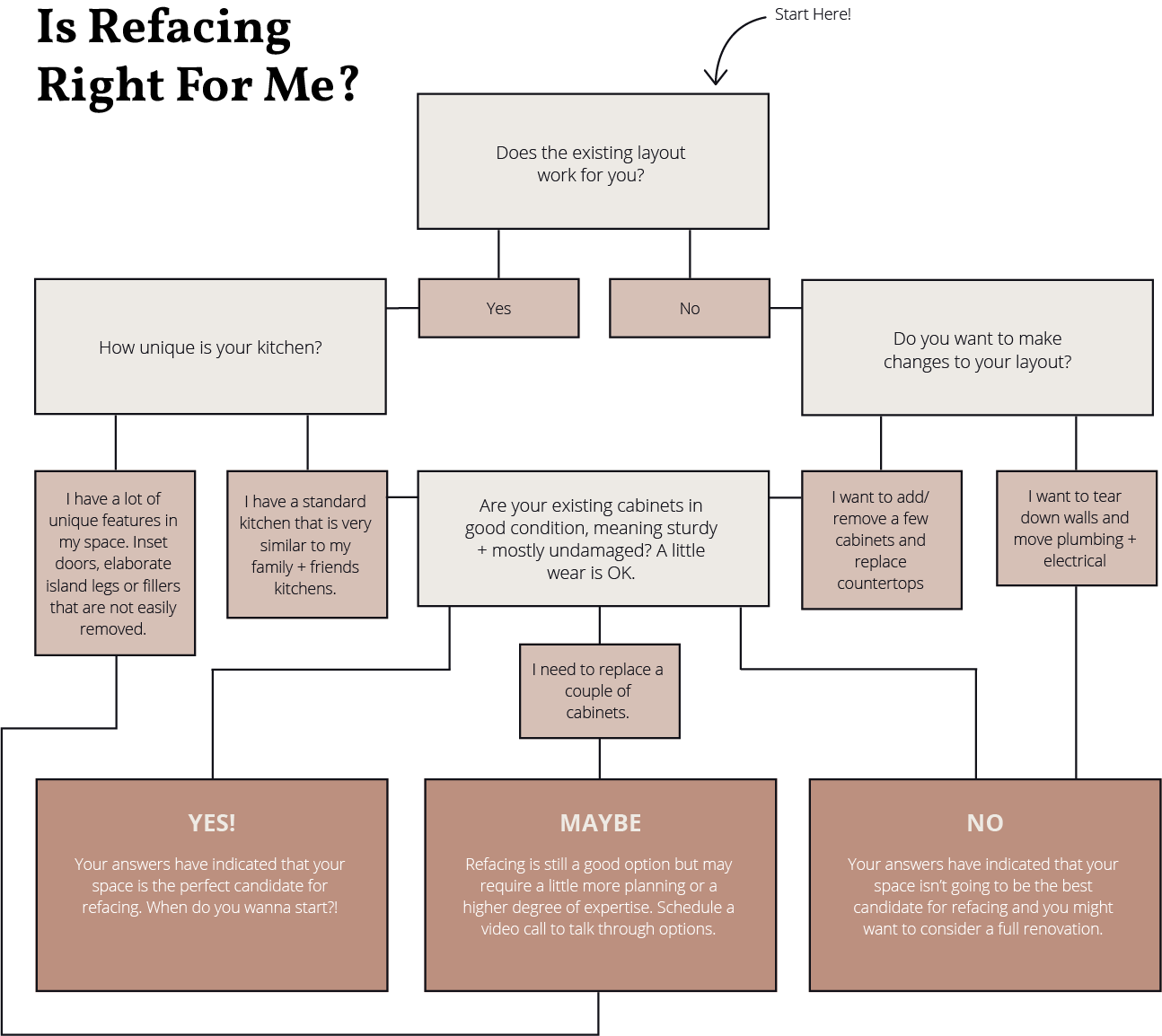 I Want to Learn More!
Learn more about our engineered products and browse our selection of modern and timeless style and finish options.
I'm Ready to Measure!
Follow our step-by-step instructions to measure your cabinets and calculate for your new doors, drawer fronts.
Help Me Out!
Schedule a free video consult and we'll guide you through the measuring process to make sure all the decimals are in the right place.
Refacing is a kitchen cabinet makeover. All visible parts of the cabinet are updated. Doors and drawer fronts are removed and replaced, so are hinges and hardware. All visible exterior surfaces are covered. Because the existing cabinet boxes stay in place, projects are usually simplified, without the time, mess and stress of renovating or refinishing.
Yes! With cabinet refacing, your existing cabinet boxes are reused, which keeps them out of landfills. Reusing your cabinet boxes also eliminates the materials needed to produce new ones and the emissions that go along with building and transporting them. Additionally, Front + Center doesn't use any VOCs in our engineered Fronts + Refacing Supplies.
The length of your project depends on your installer, the size of your kitchen, and scope of your project, but most cabinet refacing projects take 1-4 days to complete. The full process from the initial meeting with a Pro through installation generally takes 4-6 weeks, depending on the Pro's availability.
A high quality, double-refined, 3/4″ engineered core provides a stable, consistent substrate. In our Seamless Styles – Shaker, Raised, and Flat – the profile detail is first routed into the core, then 3D Laminate (3DL) material is pressed onto the face and over the sides, creating a seamless bond between the face and sides of the Front. Our Miter Shaker and Miter Step Shaker doors are constructed the same way traditional wood doors are made, with the added benefit of using highly durable and consistent engineered materials. The result is a uniform appearance with true grain orientation. This means the grain flows with the stiles and rails of each component.